Introduction to Spiral concentrator
Spiral classifier or spiral concentrator is one mining machine used for ore dressing production, which precipitated in the liquid at different speeds by means of the proportion of solid particles and which is a device of the mechanical grading. The screw classifier can grind the material into the powder level in the filter, and then the coarse material can be discharged from the overflow tube of the spiral concentrator. The spiral classifiers is also referred as grader. The screw classifiers mainly four types such as high weir single spiral classifier, double spiral, sunken single spiral and double helix classifier.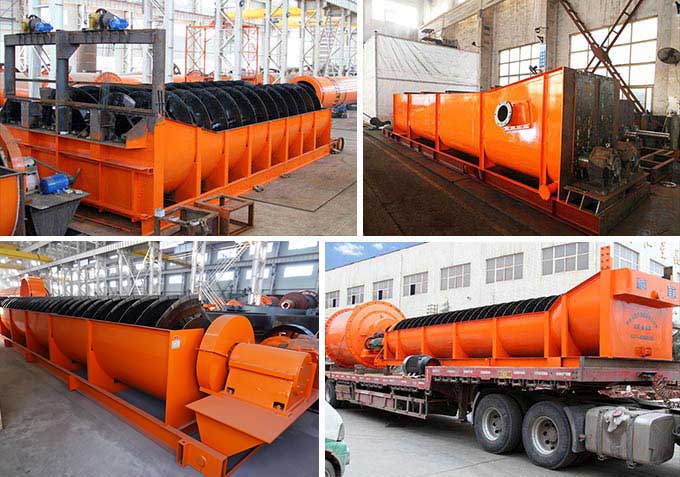 The Working Principle of Classifier:
The screw classifier is relying on the different sizes, various specific gravity in order to reach the different theory of settling velocity in the liquid, which can cause the fine mineral particles floating in the water into over flow, and the coarse ore particles sinking into the bottom. It is one classifying machine to be major in mechanical grading by screwing into the upper discharge of the raw material, which also can grind the material into one powder level in the filter, and then the coarse material can be screwed into the rotary vane by using a spiral piece.
To filter out the fine material is the final process of the spiral concentrator, which is discharged from the over flow tube. The base of the machine is made up of channel steel body made of welded steel plate. The main features of this machine is that the head is taking spiral shaft and the main part pieces of it is mainly using wear resistant and durable material, and there are two type of the listing devices including device electric and manual.
The features of screw classifier: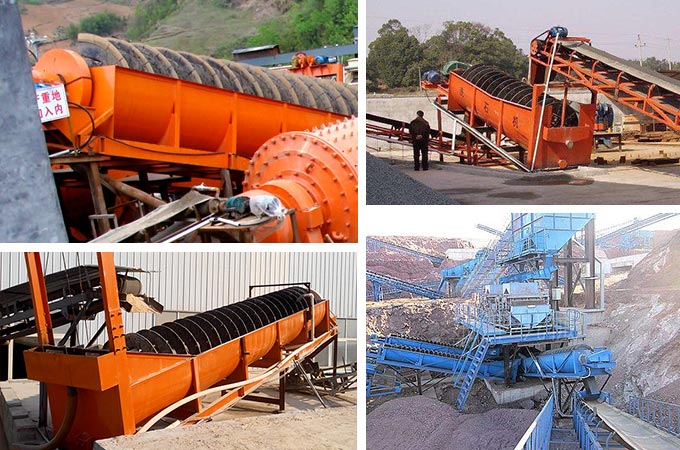 1. To sort of the separation of excessive powder separation mechanism in sand dry production process is the main function of it, which can be very convenient to meet the user's requirements by relying on the simple controlling on the machine.
2. This screw classifier is used for the big or medium production line with dry type.
3. The powder percentage between 0.00--0.75mm can be adjusted of 2%-15%.
4. The powder quality can be easily controlled, and the granularity adjustment is easy, flexible and credible.
5. Lower maintenance ratio with the plate of tile.
6. Inverter control technology, operating more concise.
Technical data
Model
Spiral
Diameter
(mm)
Trough
Length
(mm)
Spiral
rotate
speed
(r/min)
Processing
capacity(t/d)
Motor
Power
(kw ≤)
Dimensions
(mm≤)
Total
weight
(t)
Sand
-return
Overflow
For
driving
For
lifting
Length
Width
Height
≤
FG-3
300
3000
12-30
80-150
20
1.1
----
3850
490
1140
0.7
FG-5
500
4500
8-12.5
135-210
32
1.1
----
5430
680
1480
1.9
FG-7
750
5500
6-10
340-570
65
3
----
6720
980
1820
3.1
FG-10
1000
6500
5-8
675-1080
110
5.5
----
7590
1240
2380
4.9
FC-10
8400
675-1080
85
7.5
----
9600
1240
2680
6.2
FG-12
1200
6500
4-6
1170-1870
155
7.5
2.2
8180
1570
3110
8.5
FC-12
8400
1170-1870
120
7.5
2.2
10370
1540
3920
11.0
2FG-12
6500
2340-3740
310
15
4.4
8230
2790
3110
15.8
2FC-12
8400
2340-3740
240
15
4.4
10370
2790
3920
17.6
FG-15
1500
8300
4-6
1830-2740
235
7.5
2.2
10410
1880
4080
12.5
FC-15
10500
1830-2740
185
7.5
2.2
12670
1820
4890
16.8
2FG-15
8300
2280-5480
470
15
4.4
10410
3390
4080
22.1
2FC-15
10500
2280-5480
370
15
4.4
12670
3370
4890
30.7
FG-20
2000
8400
3.6-5.5
3290-5940
400
11-15
3
10790
2530
4490
20.5
FC-20
12900
3210-5940
320
11-15
3
15610
2530
5340
28.5
2FG-20
8400
7780-11880
800
22-30
6
11000
4600
4490
35.5
2FC-20
12900
7780-11880
640
22-30
6
15760
4600
5640
48.7
FG-24
2400
9130
3.67
6800
580
15
3
11650
2910
4970
26.8
FC-24
14130
6800
490
18.5
4
16580
2930
7190
41.0
2FG-24
9130
13600
1160
30
6
12710
5430
5690
45.8
2FC-24
14130
13700
910
37
8
17710
5430
8000
67.9
2FG-30
3000
12500
3.2
23300
1785
40
8
16020
6640
6350
73.0
2FC-30
14300
23300
1410
----
----
17091
6640
8680
84.8