Introduction Ball Mill Grinder
Ball mill grinder is the key machine used after the material is crushed, which is widely used in cement, silicate products, new building materials, refractory materials, fertilizer, black and non-ferrous metal processing and glass ceramics production industry, and which can be applied to grinding process with dry or wet type. Ball mill grinder can be used in grinding all kinds of mineral rocks and the other material in some industries of ore dressing, building material and the chemical industry, which can be divided into two types, one is dry type and the other is wet type. Ball mills grinder can be classified into lattice-type and overflow type according to the discharging types of raw material.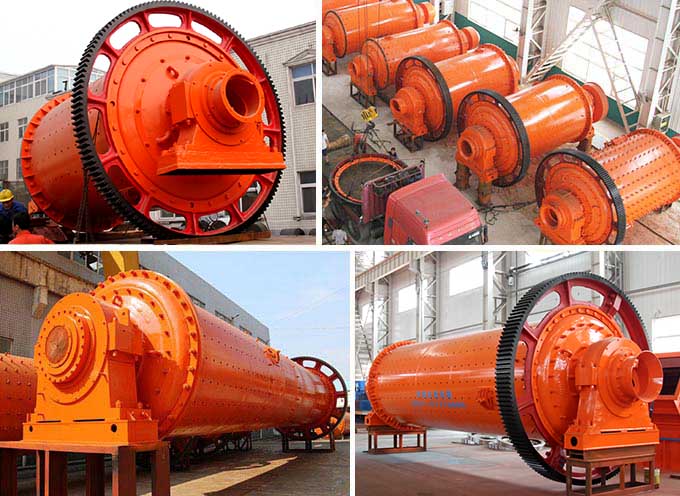 The Main Structure of Grinding Mills:
1. Main bearings with a large-diameter stick double row self-aligning bearings, replace the plain bearings to reduce friction, reduce energy consumption, the mill is easy to start.
2. Retain the ordinary mill end cap structure, large-caliber material inlet and outlet, large capacity.
3. Feeder is divided into combined feeder and the drum-shaped feeder two, simple structure, split installation.
4. Inertial impaction equipment running smoothly, and reduce the mill downtime parking maintenance time, improve efficiency.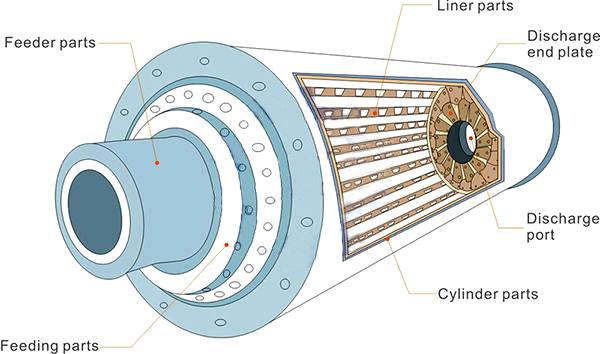 Ball Mill Machine Composition:
The ball grinder is made up of horizontal cylinder, hollow shaft and the head parts, and the barrel length cylinder is equipped with a grinding body which is manufactured with steel plate. Grinding body can be used to steel segment, which is installed in the cylinder grinding bogy according to the different diameter and a certain percentage of loaded barrel. The material is transferred into cylinder body from discharging hollow shaft according to the granularity of the abrasive material, and when the ball mill rotates, the cylinder grinding body will force to stir on the both impact of friction force and centrifugal force, and the raw material near the cylinder liner will be taken away by the cylinder due to its gravity, which will be crushed like a projective material.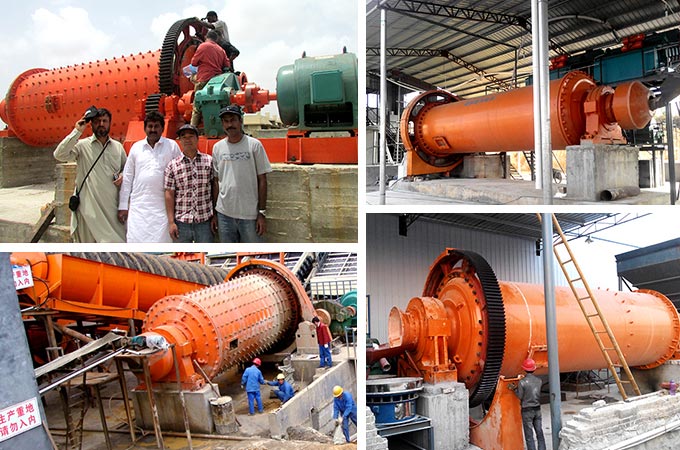 Material is fed to the first warehouse from the feeding device into the compound empty axis spiral, which has the ladder liner and corrugated liner with multiple size steel balls, which is fell down under one centrifugal force after they are brought into one height in order to produce the impact and grinding impact on the material. The crushed material reaching the purpose of coarse crushing will be entered into the second warehouse from monolayer partition panel which has the flat lining with ball mills in order to realize the second crushing and grinding in it. And the last is that the powder discharged through the discharging grate plate, and then the grinding operation is finished.
Technical data
Model
Shell rotation speed
(r/min)
Ball load
(t)
Feeding size
(mm)
Discharging size
(mm)
Capacity
(t/h)
Motor power
(kw)
Total weight
(t)
Ф900×1800
36-38
1.5
≤20
0.075-0.89
0.65-2
18.5
5.85
Ф900×3000
36
2.7
≤20
0.075-0.89
1.1-3.5
22
6.98
Ф1200×2400
36
3
≤25
0.075-0.6
1.5-4.8
30
13.6
Ф1200×3000
36
3.5
≤25
0.074-0.4
1.6-5
37
14.3
Ф1200×4500
32.4
5
≤25
0.074-0.4
1.6-5.8
55
15.6
Ф1500×3000
29.7
7.5
≤25
0.074-0.4
2-5
75
19.5
Ф1500×4500
27
11
≤25
0.074-0.4
3-6
110
22
Ф1500×5700
28
12
≤25
0.074-0.4
3.5-6
130
25.8
Ф1830×3000
25.4
11
≤25
0.074-0.4
4-10
130
34.5
Ф1830×4500
25.4
15
≤25
0.074-0.4
4.5-12
155
38
Ф1830×6400
24.1
21
≤25
0.074-0.4
6.5-15
210
43
Ф1830×7000
24.1
23
≤25
0.074-0.4
7.5-17
245
43.8
Ф2100×3000
23.7
15
≤25
0.074-0.4
6.5-36
155
45
Ф2100×4500
23.7
24
≤25
0.074-0.4
8-43
245
56
Ф2100×7000
23.7
26
≤25
0.074-0.4
12-48
280
59.5
Ф2200×4500
21.5
27
≤25
0.074-0.4
9-45
280
54.5
Ф2200×6500
21.7
35
≤25
0.074-0.4
14-26
380
61
Ф2200×7000
21.7
35
≤25
0.074-0.4
15-28
380
62.5
Ф2200×7500
21.7
35
≤25
0.074-0.4
15-30
380
64.8
Ф2400×3000
21
23
≤25
0.074-0.4
7-50
245
58
Ф2400×4500
21
30
≤25
0.074-0.4
8.5-60
320
72
Ф2700×4000
20.7
40
≤25
0.074-0.4
22-80
380
95
Ф2700×4500
20.7
48
≤25
0.074-0.4
26-90
480
102
Ф3200×4500
18
65
≤25
0.074-0.4
As per process conditions
630
149
Ф3600×4500
17
90
≤25
0.074-0.4
As per process conditions
850
169
Ф3600×6000
17
110
≤25
0.074-0.4
As per process conditions
1250
198
Ф3600×8500
18
131
≤25
0.074-0.4
45.8-256
1800
260
Ф4000×5000
16.9
121
≤25
0.074-0.4
45-208
1500
230
Ф4000×6000
16.9
146
≤25
0.074-0.4
65-248
1600
242
Ф4000×6700
16.9
149
≤25
0.074-0.4
75-252
1800
249
Ф4500×6400
15.6
172
≤25
0.074-0.4
84-306
2000
280
Ф5030×6400
14.4
216
≤25
0.074-0.4
98-386
2500
320
Ф5030×8300
14.4
266
≤25
0.074-0.4
118-500
3300
403
Ф5500×8500
13.8
338
≤25
0.074-0.4
148-615
4500
525