Overview
The disk granulator takes the arc structure, and the granulation rate can rate up to 93 or more. There are three discharging ports of granulating disk, which is convenient to producing work with the medium intermittent in order to lower the labor intensity and to improve the working efficiency. The motor reducing speed is drove by flexible belt, which can reach one smooth production, to decrease the impact mitigation and to increase the lifespan of mining machine. The steel plate with multiple radiations is rugged by bottom strength with disc tray, which cannot be changed for a long time, having the sturdy base design and smooth operation without anchor bolts.

The Structure of Disk Grain Making Machine:
The disk granulator is mainly made up of feeding, mixing, granularity producing, conveyor and lubricating system. The production of it has the condition that the moisture content of raw material cannot be more than 15% with the powder form the hopper into the feed auger by adjusting the variable motor speed in order to achieve the suitable material flow, which is fell into the blender in order to mix with the stirring rod steam mixing quenched and tempered.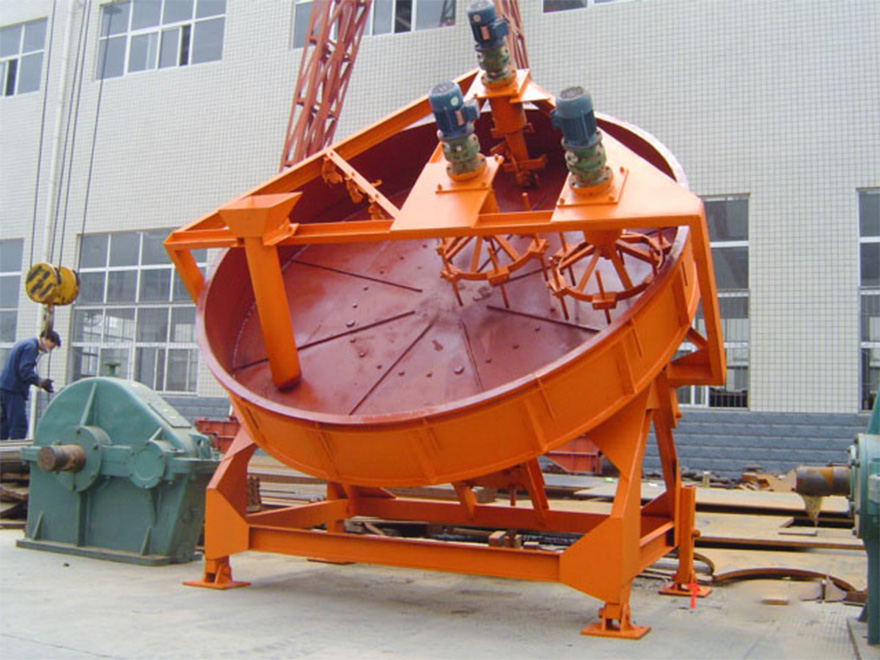 And if you need to add the molasses or grease, which should be joined with the steam from the mixing tube with quenched and tempered, and whose amount cannot be more than 3%, otherwise, it is not easy to form the product granularity after quenching and tempering with the powder temperature of up to 64 to 85℃ and with the humidity of 14 to 16%. And the last step is to remove the iron impurity from the absorption device and finally can be into the repression room for granulation.
Technical data
Specification
(m)

Rotation speed
(r/min)

Production capacity
(t/h)

Motor
(kw)

Adjustment range of obliquity

Dimensions
(m)

Total weight
(t)

Φ2.2

14.25

4-8

7.5

35-55

2.8×2.75×2.58

3.2

Φ2.5

11.81

5-10

7.5

35-55

3.2×2.3×3

3.6

Φ2.8

11.21

12-16

7.5

35-55

3.4×2.6×3.1

4.1

Φ3.0

11.3

15-18

11

35-55

3.7×2.7×3.3

4.8

Φ3.2

9.6

15-20

11

35-55

3.9×2.7×3.4

5.6

Φ3.6

9.1

18-24

15

35-55

4.3×3.1×4.0

7.2