Introduction To HXJQ Mobile Crushers Plant
To HXJQ customers, flexibility is everything. We offer a wide range of mobile crushers and screens, both tracked and wheeled, including jaw crushers, impact crushers, cone crushers, and screens for quarrying and construction projects.In order to bring the most powerful rock and ore crushers and screening plants to the most difficult of jobs, HXJQ have developed revolutionary machines with the highest levels of agility and mobility.
Whether you are looking to crush tonnes of hard rock or produce several sized aggregates with our high output screening plants, the versatility of our equipment and optional extras will ensure that we can always provide the right machine for you.
Applying Scope of Portable Crusher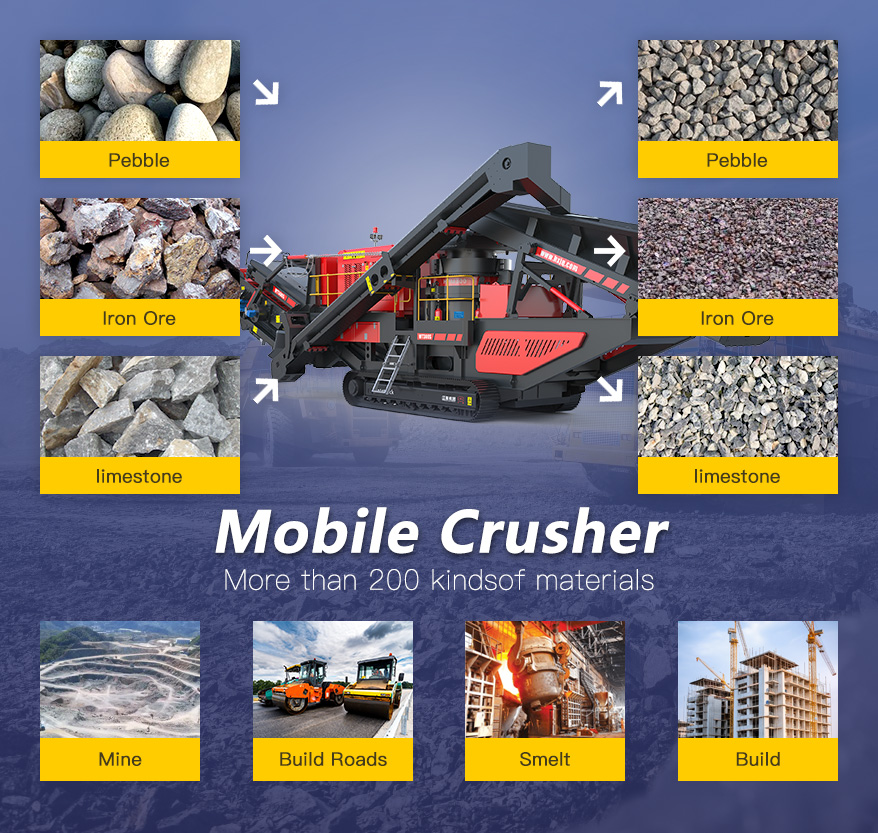 1. The mobile crushing station is widely used in mining, coal, garbage and construction waste recycling, earthwork, urban infrastructure, roads or construction sites and site operations.
2. The portable crushing plant is used for Processing of topsoil and a variety of other materials; separation viscous to coagulation aggregate; construction and demolition industry; broken after the screening; quarrying industry.
3. Our mobile crusher plant can crush river pebbles, rocks (limestone, granite, basalt, diabase, andesite), ore tailings, the artificial sand stone chips.
Outstanding Features of Mobile Crusher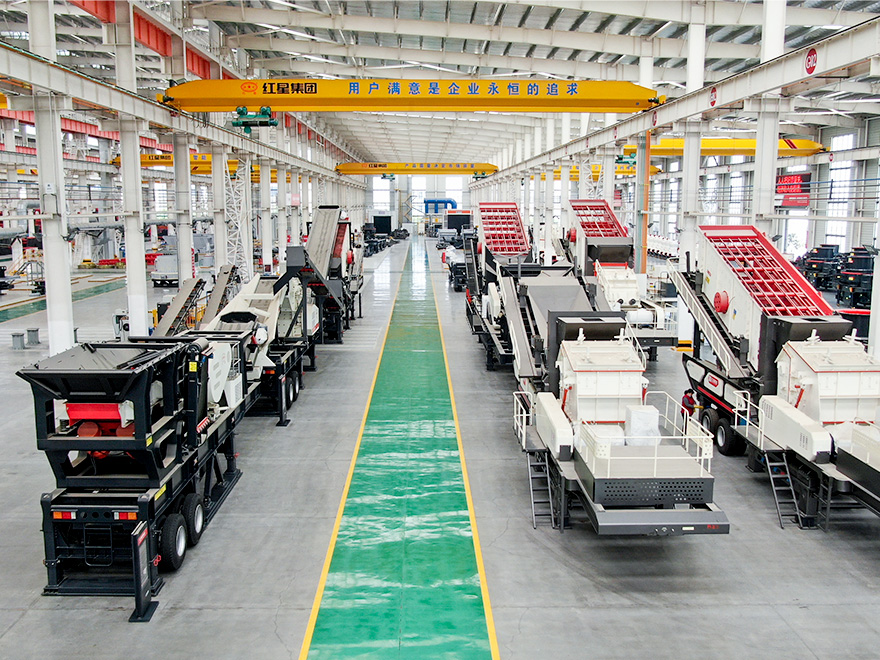 1. Up to 60% reduction in the 85 dB(A) noise protection distance
2. Significantly reduced noise around the plant; Low dust emission
3. Easier to get an environmental permit and to move
4. Fuel efficient and reliable crushing for the best performance
Technical data
MOBLIE IMPACT CRUSHER TECHNICAL PARAMETERS
| | | | | | |
| --- | --- | --- | --- | --- | --- |
| Model | HX938F1210 | HX938FW1214 | HX1149F1315 | HX1349HD1110 | HX1349HD1315 |
| Transportation Length(mm) | 12000 | 12000 | 13900 | 15450 | 15450 |
| Transportation Width(mm) | 2550 | 2550 | 2900 | 2950 | 2950 |
| Transportation Height(mm) | 3900 | 3900 | 4450 | 4500 | 4500 |
| Maximum Length(mm) | 12500 | 12500 | 13900 | 15450 | 15450 |
| Maximum Width(mm) | 3250 | 3260 | 3250 | 3250 | 3250 |
| Maximum Height(mm) | 5100 | 5200 | 5200 | 5200 | 5200 |
| Weight(t) | 39 | 44 | 54 | 62 | 62 |
| Crusher Model | PF-1210 | PF-1214 | PF-1315 | HD1110 | HD1315 |
| The Maximum Feeding Size(mm) | 350 | 350 | 500 | 400 | 700 |
| Production Capacity(t/h) | 70-130 | 100-180 | 130-250 | 112 | 280 |
| Vibrating Feeder | ZSW950×3800 | ZSW950×3800 | ZSW110×4900 | ZSW130×4900 | ZSW130×4900 |
| Main Belt Conveyor | B800×8.5M | B800×8.5M | B1000×9.5M | B800×11M | B1200×11M |
| Side-opening Belt conveyor(Optional) | B500×3.2M | B500×3.2M | B650×4M | B650×4M | B650×4M |
| Genset(Optional) (kw) | 320 | 320 | 400 | 320 | 440 |
| Iron Separator (Optional)(kw) | RCYD(C)-8 | RCYD(C)-8 | RCYD(C)-10 | RCYD(C)-8 | RCYD(C)-12 |
MOBLIE JAW CRUSHER TECHNICAL PARAMETERS
| | | | | |
| --- | --- | --- | --- | --- |
| Model | HX938HD80 | HX1149HD98 | HX1349HD110 | HX1349HD125 |
| Transportation Length(mm) | 12600 | 13500 | 14500 | 15200 |
| Transportation Width(mm) | 2600 | 2700 | 2800 | 2900 |
| Transportation Height(mm) | 3870 | 4200 | 4450 | 4500 |
| Maximum Length(mm) | 12500 | 14000 | 16100 | 14700 |
| Maximum Width(mm) | 4100 | 4500 | 5100 | 5100 |
| Maximum Height(mm) | 4100 | 4900 | 5000 | 5300 |
| Weight(t) | 39 | 57 | 55 | 65 |
| Tire Configuration | Dual-axial | Dual-axial | Dual-axial | Dual-axial |
| Jaw Crusher | HD80 | HD98 | HD110 | HD125 |
| Maximum Feeding Size(mm) | 500 | 550 | 660 | 800 |
| Discharge Opening Size(mm) | 50-150 | 75-175 | 100-200 | 125-225 |
| Capacity(t/h) | 85-275 | 110-350 | 215-510 | 280-650 |
| Vibrating Model | ZSW380×95 | ZSW420×110 | ZSW490×130 | ZSW490×130 |
| Main Belt Conveyor | B800×8.5M | B1000×9.5M | B1000×11M | B1200×11M |
| Side-opening Belt conveyor(Optional) | B500×3M | B650×3.5M | B650×4M | B650×4M |
| Genset(Optional) (kw) | 200 | 250 | 270 | 400 |
| Iron Separator (Optional) | RCYD(C)-8 | RCYD(C)-10 | RCYD(C)-10 | RCYD(C)-12 |