Introduction
The conveyor belt system can be used for horizontal transportation and slanting transportation very conveniently, so that it is widely used in all kinds of modern industrial companies, such as the under workings of mine, surface transportation system of the grass and open-pit quarry plant and ore beneficiation plant. The conveyor belt is pulled tight by the driving device, and the middle framework and roller composing the conveying belt as the pulling and bearing carrier, so that the bulk materials and pieces are continuously conveyed.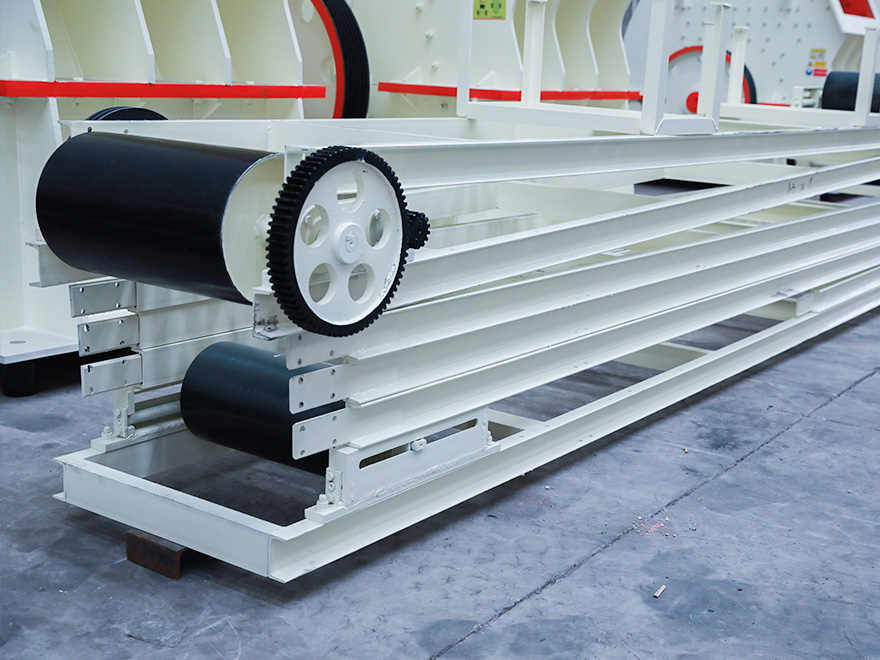 Working Principle of Belt Conveyor:
The convery belt is mainly composed by the expansion cylinder on both ends and the closed belts tightly knotted on them. The revolving cylinder of the conveyor belt is called driving cylinder, and the other cylinder which is mainly used for changing the moving direction of the belt is called redirection cylinder. The driving cylinder drive the device through the electromotor on the reducer, and the belt pulls relying on the friction of the driving cylinder and the conveyor belt. The driving cylinder is usually installed on the materials discharging side for purpose of increasing the pulling force. The materials are fed from the feeding end, and then they will fall on the revolving conveyor belt, and relying on the friction force of the belt conveyor, the conveying materials are driven to the material discharging end for discharging.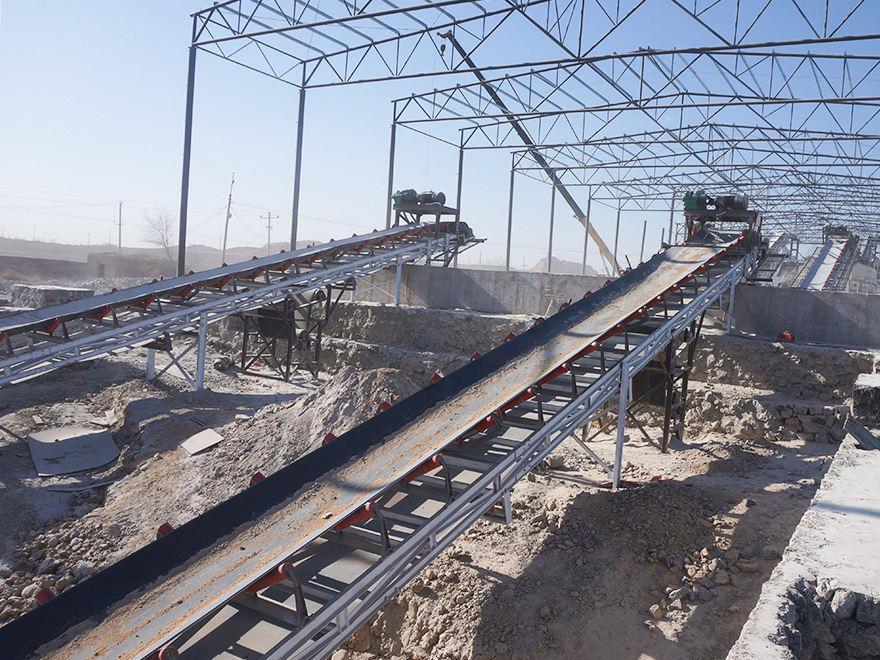 The belt conveyor is the ideal highly efficient and continuous transmitting equipment. Compared with other transportation equipment, it has many advantages such as long transportation distance, big transportation quantity, continuous transportation, reliable operation and easy realization of automation and centralized control.
Technical data
Belt width
(mm)
Conveying length(m)
Power(kw)
Conveying speed
(m/s)
Conveying capacity
(t/h)
400
≤10
3
12-15
3-4
15-30
4-7.5
1.25-2.0
30-60
500
≤10
3
12-15
4-5.5
15-30
5.5-7.5
1.25-2.0
40-80
650
≤10
4
12-15
7.5
15-30
7.5-11
1.25-2.0
80-120
800
≤10
4
12-15
7.5
15-30
7.5-15
1.25-2.0
120-200
1000
≤10
5.5
10-20
7.5-11
20-40
11-22
1.25-2.0
200-320
1200
≤10
7.5
10-20
7.5-15
20-40
15-30
1.25-2.0
290-480
1400
≤10
11
10-20
15-22
20-40
22-45
1.25-2.0
400-680
1600
≤10
15
10-20
22-30
20-50
30-75
1.25-2.0
600-1080
1800
≤10
18.5
10-20
30-45
20-50
45-110
1.0-2.0
800-1500
2000
≤10
22
10-20
45-55
20-50
55-132
1.0-2.0
1000-2000
2400
≤10
30
10-20
55-75
20-50
75-185
1.0-2.0
1500-3000
Join Us On Whatsapp
Name: Mining-Mineral-Ore-Machine
For: share openings, doing business, make information transmission
Click it to Join in