Introduction to cone crusher:
Symons cone crushers is a type of hydraulic cone crusher with the advanced big power, big crushing ratio and higher working efficiency, which is researched on the basis of combining the advanced technology and mechanism coming from some developed countries. This latest hydraulic cone crusher is quite different from the traditional cone crushers, which has the power to combine all the merits of all kinds of cone crushers.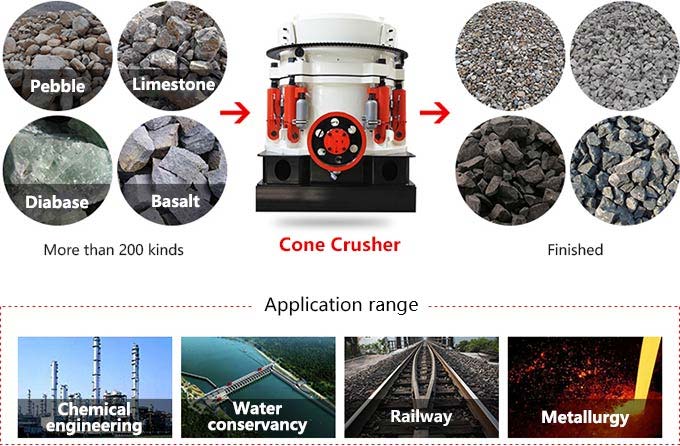 Application and advantages of symons cone crushers:
Symons cone crushers or the hydraulic cone crusher is applied in the industries such as metallurgy, building, road paving, chemical industry and Portland in order to realize the crushing of raw material, and which also can crush the middle hardness and hardest hardness of all kinds of rock and mineral stone. Symons cone crushers has the advantages of big crushing ratio, higher working efficiency, lower energy consumption, and medium granularity, which is used to crush the mining stone and rock for reaching fine crushing and medium crushing.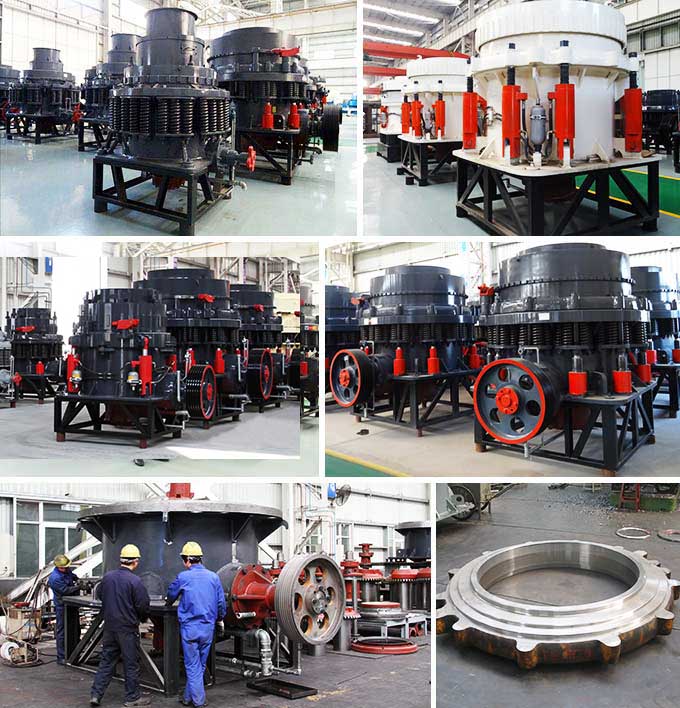 Structure of the hydraulic cone crusher:
The structure penetration and the main parameter: the main structure frame, the horizontal axis, moving cone, balance wheel, eccentric sleeve, on the broken wall (fixed cone), under the crushing wall (dynamic cone), fluid couplings, lubrication system, hydraulic system, several parts of the control system, etc.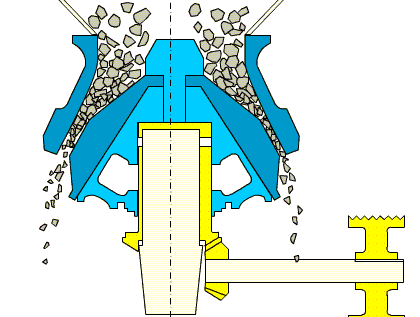 Precaution when using cone crusher:
1. The right choice for the broken material crushing chamber.
2. Size of feed ratio is appropriate.
3. In crushing chamber within the range of 360 ° to the material distributed evenly.
4. Automatic control means.
5. The discharging of cone crusher is smooth.
6. The maximum output of the crushing machine and specifications of the conveyor belt is adaptable.
7. Select the appropriate pre-screening and closed screening sieve specifications.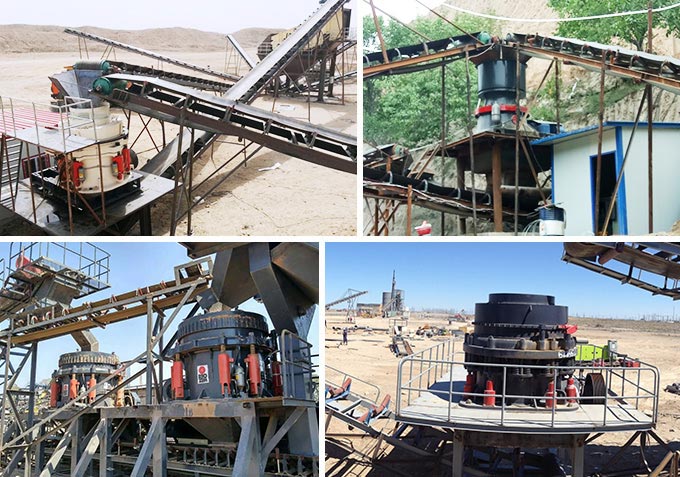 Please leave a message if you are interested and we won't disappoint you! Thank you!
Hongxing Machinery is an old and trustful company which makes high quality cone crushers. To select the cone crusher manufacturer of Hongxing means to select the first class service as well as the first class cone crusher supplier. Hongxing will be your best partner.
Technical data
Specification
Model
Diameter
of large
end of
crushing
cone
(mm)
Max.feeding
size(mm)
Width of
discharge
opening
(mm)
Processing
capacity
(t/h)
Motor
power
(kw)
Total
weight
(t)
Dimensions
(L×W×H)
(mm)
Φ600
PYB600
600
65
12-25
40
8P 30
5
2234×1370×1675
PYD600
35
3-13
12-23
5.5
2234×1370×1675
Φ900
PYB900
900
115
15-50
50-90
8P 55
11.2
2692×1640×2350
PYZ900
60
5-20
20-65
11.2
2692×1640×2350
PYD900
50
3-13
15-50
11.3
2692×1640×2350
Φ1200
PYB1200
1200
145
20-50
110-168
8P 110
24.7
2790×1878×2844
PYZ1200
100
8-25
42-135
25
2790×1878×2844
PYD1200
50
3-15
18-105
25.3
2790×1878×2844
Φ1750
PYB1750
1750
215
25-50
180-360
8P 160
50.3
3910×2894×3809
PYZ1750
185
10-30
80-210
50.3
3910×2894×3809
PYD1750
85
5-13
60-180
50.2
3910×2894×3809
Φ2200
PYB2200
2200
300
30-60
420-700
8P 280-260
80
4622×3302×4470
PYZ2200
230
10-30
130-410
80
4622×3302×4470
PYD2200
100
5-15
80-200
81.4
4622×3302×4470