Introduction to China Sand Production Line
The third-generation china sand maker is mainly used for providing great aggregates and sands for industries of high road, highway, higher building, and municipal administration, the construction of hydroelectric dams, cement mixing station

Configuration to 150t/h Sand Making Line
Configuration for 150t/h Sand Making Plant

List
Machine
Model
Number
Power(kw)
1
Full-hydraulic Cone Crusher
HXGYS400
One
160
2
Vibrating Screen
3YK2160
One
30
3
High-efficient VSI Crusher
HXVSI9526
Two
264×2
4
Vibrating Screen
2YK2460
Two
37×2
5
Sand Washer
XS2900
Two
7.5×2
Total Power:807KW

Working Procedures of Sand Production Line
The procedures of the sand making line or sand making plant are as followings: raw rocks are fed into jaw crusher for primary crushing by vibrating feeder and belt conveyor, then delivered into sand maker for secondary crushing. After then, the crushed rocks will be screened by vibrating screen. The qualified sands will be fed into sand washer for cleaning process. As to unqualified, they will be delivered into sand maker again for tertiary crushing until being qualified.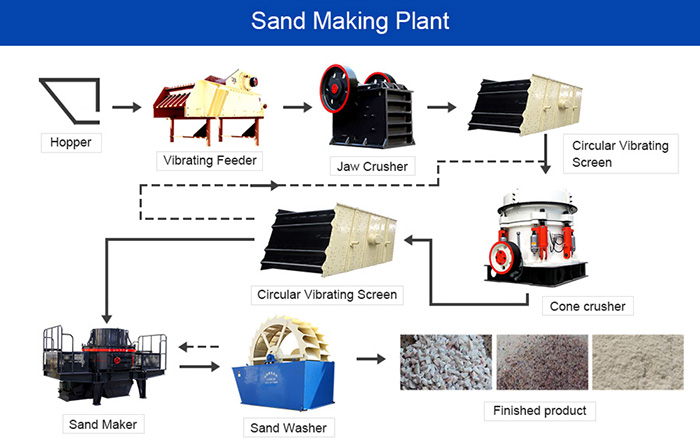 Excellent Features of Sand Production Line
1: Whole investment is 1/3-1/5 of capacity-equivalent ordinary lines
2: Production cost per ton is 1/3—1/4 of ordinary lines
3: High automatic degree, 2 or 1 person is required for production
4: Short term for ROI(Return on investment), generally 3 months
5: Good shape and size of sands, confirm to international standard

Please leave a message if you are interested and we won't disappoint you! Thank you!
Join Us On Whatsapp
Name: Mining-Mineral-Ore-Machine
For: share openings, doing business, make information transmission
Click it to Join in