SF Flotation Machine Applied For The Ferrous Metals
SF flotation machine is application for the separation of nonferrous metal and ferrous metals, such as fluorite and talc. Hongxing sf flotation machine is an ideal self-inspiratory mechanical agitation type flotation machine. The machine has many features: inspiratory capacity is relatively stable; solid particles suspend better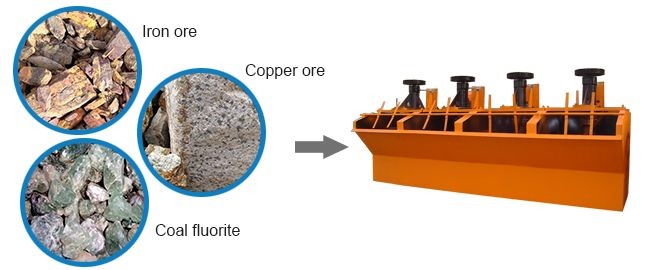 It uses in classifying non-ferrous and ferrous metal mineral. SF Flotation Machine is the mechanical agitation type, and it can own draw the inspiration and the pulp; Compared to A, its spirit is big , and the power loss low, and the impeller lap wears lightly; The impeller is driven by belts, which can bring the centrifugal effect to form negative pressure. While extracting sufficient air to mix with ore pulp, the machine stirs ore pulp and mixes it with chemicals to form mineralized froth.
SF flotation machine is designed on the basis of principle of flotation machine. Impeller installation is shallow depth, Stator has long life, Liquid surface is balance and high Sorting Efficiency. Generally, sf flotation machine is always applied with series flotation machine to form a joint unit; series and sf flotation machine also play their respective advantages. HXJQ has the self-absorption ability, the suction intensity big, and it may adjust the air input in 0.1---1m3/min; the impeller diameter is small, the rotational speed low, consuming electricity few, also advantageous for the automatic control.
SF flotation machine is used to separate non-ferrous metals, ferrous metals, precious metals, non-metallic minerals and chemical raw materials, recycle the useful minerals. The device has the following characteristics: the giant inspiratory volume, low power consumption. Each slot has three features, that's inhale, absorb the pulp and flotation. It's automatic flotation circuit; there is no need of any auxiliary equipment. The configuration is horizontal, which can ease the changes of process. Slurry circulation is reasonable; it can reduce the coarse sand deposits to the greatest degree. With pulp surface-controlled device, it's convenient to adjust.