Introduction
Rotary drying machine is divided into many types, for example, limestone dryer, roller dryer, rotary drum dryer and spray dryer. Drying equipment is widely used in building materials, metallurgy, chemical industry and cement industry and is broadly applied to dry the materials such as limestone, coal powder, slag and clay. It mainly consists of revolving part, raising stuff plate, driving device, supporting device and seal ring.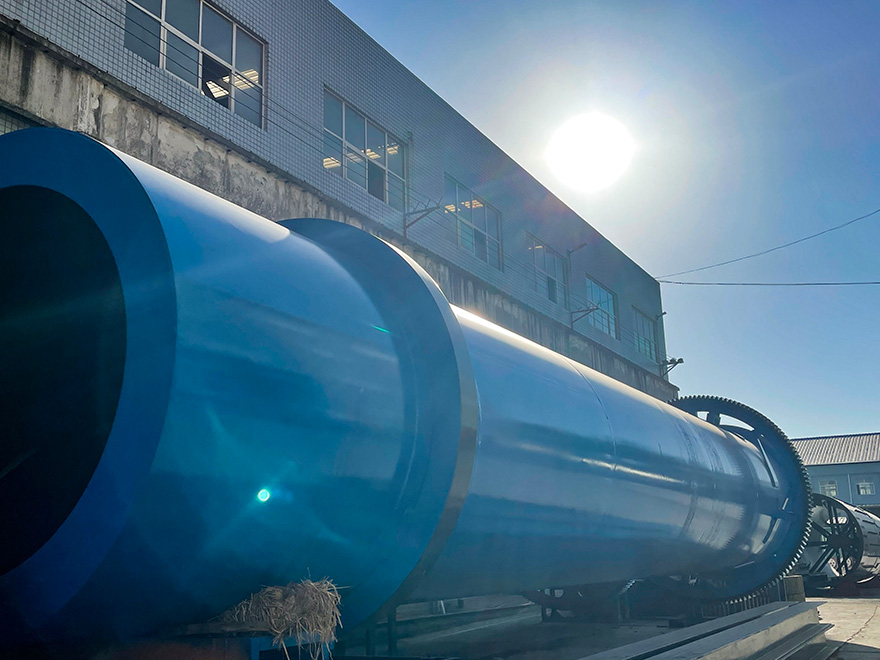 Working Principle of Drying Machine:
The wet materials are transported into the material hopper by the belt conveyor and bucket elevator, and gets into the feeding terminal through feeding pipe with the aid of feeder of material hopper. The pitch of the feeding pipe should be more than the natural pitch of materials in order to help the materials flow into the dryer machine successfully. The roller dryer is a rotary cylinder which is oblique slightly. The materials are fed from the relatively higher terminal, heat carrier comes in from the lower terminal, and sometimes the heat carrier and materials get into the cylinder together.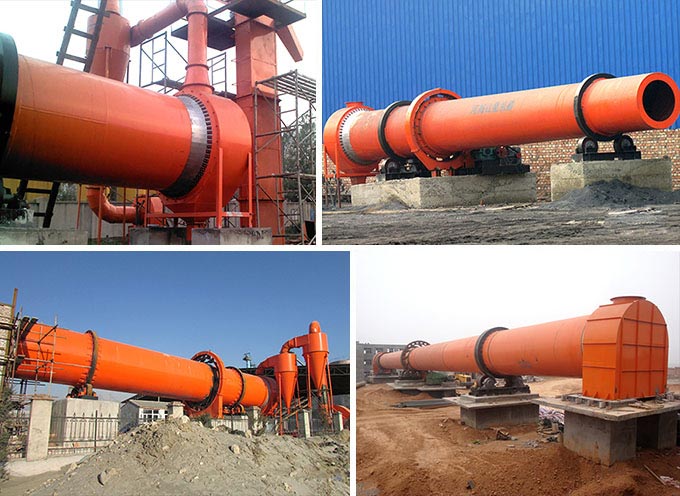 Along with the revolving of cylinder, the materials move to the lower terminal due to the gravity. When the wet materials move forward, it receives the heat from the heat carrier directly or indirectly. As a result, the wet materials are dried, and discharged out by belt conveyor or screw conveyor on the outlet. There is shoveling plate inside the cylinder in order to shovel materials up and cast it out, to increase the connection surface, to promote drying efficiency, and accelerate the forward movement of materials. Generally, the heat carrier can be hot air and chimney flue.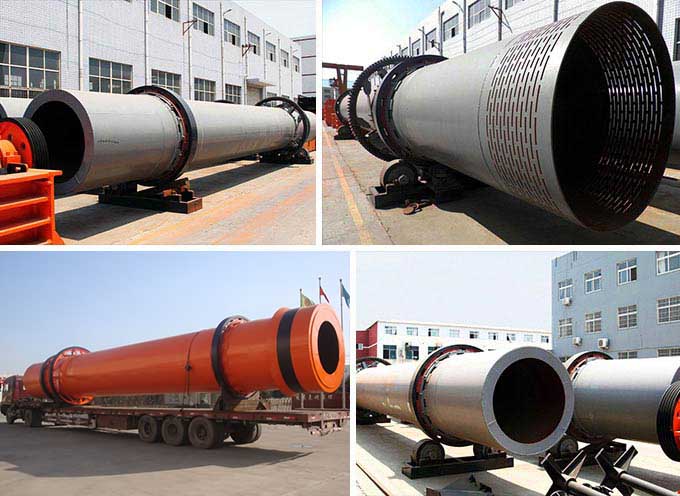 Main Features of Dryer Machine:
1. High drying strength. Since the materials are highly dispersed in the air, so that the surface of the particles are all the effectively drying size.
2. Short drying time.
3. The structure of the air drying equipment is simple and covers a small size, so that it is easy to set up and maintain.
4. High processing quantity and high heating efficiency. When drying non-integrated water, the heat efficiency can reach 60%.
5. It realizes 'zero-level pushing force', thus greatly reducing the abrasion of the supporting wheel and the operation of the cylinder is stable and reliable.
6. This machine adopts "regulating mental supporting device", so that the combination of the supporting wheel and the roller is always in a linear way, thus greatly reducing the abrasion and movement wear and tear.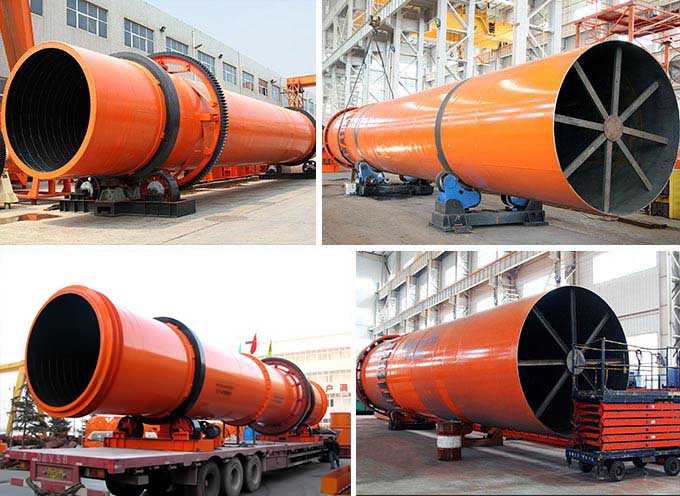 Technical data
Spec./m
(Dia.×Length)

Shell Cubage
(m³)

Capacity
(t/h)

Installation
Obliquity
(%)

Highest Inlet
Air Temperature
(℃)

Main Motor
(kw)

Weight
(t)

Φ1.2×8.0

9.0

1.9~2.4

3~5

700~800

7.5

9

Φ1.2×10

11.3

2.4~3.0

3~5

700~800

7.5

11

Φ1.5×12

21.2

4.5~5.7

3~5

700~800

15

18.5

Φ1.5×14

24.7

5.3~6.6

3~5

700~800

15

19.7

Φ1.5×15

26.5

5.7~7.1

3~5

700~800

15

20.5

Φ1.8×12

30.5

6.5~8.1

3~5

700~800

18.5

21.5

Φ1.8×14

35.6

7.6~9.5

3~5

700~800

18.5

23

Φ2.2×12

45.6

9.7~12.2

3~5

700~800

22

33.5

Φ2.2×14

53.2

11.4~14.2

3~5

700~800

22

36

Φ2.2×16

60.8

13.0~16.2

3~5

700~800

22

38

Φ2.4×14

63.3

13.5~16.9

3~5


700~800

37

45

Φ2.4×18

81.4

17.4~21.7

3~5

700~800

37

49

Φ2.4×20

90.4

19.3~24.1

3~5

700~800

45

54

Φ2.4×22

99.5

21.2~26.5

3~5

700~800

45

58

Φ2.6×24

127.4

27.2~34.0

3~5

700~800

55

73

Φ3.0×20

141.3

30.1~37.7

3~5

700~800

75

85

Φ3.0×25

176.6

37.7~47.1

3~5

700~800

75

95

Φ3.2×25

201

42.9~53.6

3~5

700~800

90

110

Φ3.6×28

285

60.8~76.0

3~5

700~800

160

135
Technical parameters of indirect heat dryer:
Shell
diameter
×shell
Length
Items
Inside
diameter
of outer
shell
(mm)
Inside
diameter
of inner
shell
(mm)
Shell
Length
(m)
Shell
cubage
(m³)
Shell
obliquity
Lifting
blade
form
Highest
inlet air
temperature
(℃)
Dimensions
(m)
Φ1.5×15m
1500
500
15
20.27
3-5%
Lifting form
850
16.2×2.7×2.7
Φ1.5×17m
17
22.97
18.2×2.7×2.7
Φ1.5×19m
19
25.68
20.0×2.9×2.9
Φ1.8×21m
1800
650
21
35.91
3-5%
Lifting form
850
22.5×2.7×2.7
Φ1.8×23m
23
39.33
24.5×2.9×2.9
Φ1.8×25m
25
42.75
26.5×2.9×2.9
Φ2.2×21m
2200
800
21
58.10
3-5%
Lifting form
850
----
Φ2.2×23m
23
63.61
Φ2.2×25m
25
69.15