Overview
The rotary cement kiln belongs to building equipment such as chemical rotary kiln and active lime rotary kiln. According to different materials, there are cement kiln, metallurgy chemical kiln and lime kiln. Cement rotary kiln is widely used for calcining cement clinker and there are two types for cement production: dry cement kiln and wet cement kiln.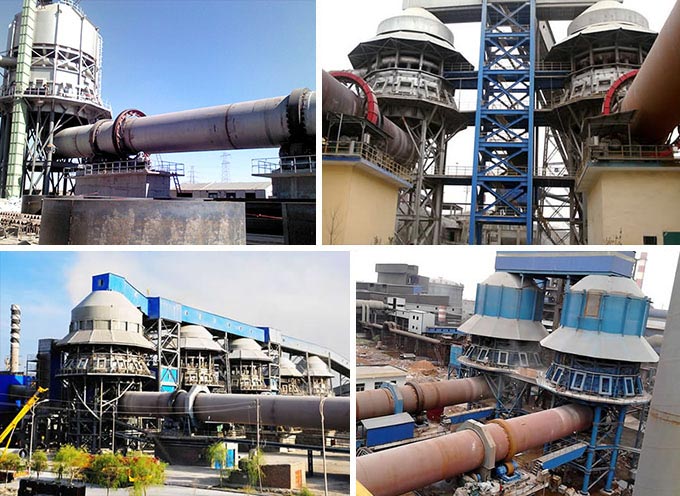 Working Principle of Cement Rotary Kiln:
The materials to be burnt get into the stove from the higher end of the cylinder. Due to the slope and slow rotation of the cylinder, the material moves around from top to bottom along the axis to finish its process. At last, the finished materials get into the cooler through the burner hood. The fuel gets into the kiln through the head of the kiln. The waste gas will be discharged from the end of the kiln after exchanging heat with the materials.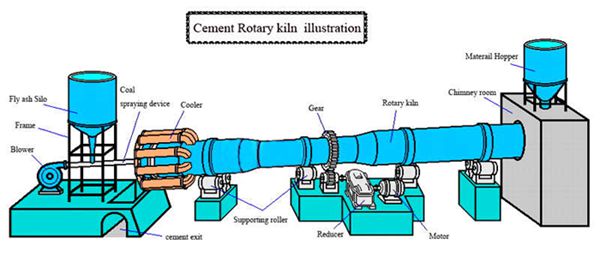 Major Types of Cement Rotary Kiln:
In the mining production process, there are many types of rotary kilns. According to the firing methods of the kiln, it can be divided into direct fired rotary kiln and indirect fired rotary kiln; according to the processing methods, it can be divided into dry process rotary kiln, wet process rotary kiln and dry and wet types rotary kiln.
In addition, Hongxing Machinery now has researched and developed a cylinder rotary kiln which has a cylinder drum, thus improving the production capacity of the machine and reducing the energy consumption. And what is more, the clay rotary kiln now also has wide application range in the cement making, building materials and clay manufacturing industry.
Technical data
Product specifications(m)
Kiln dimensions
Capacity(t/d)
Rotation speed(r/min)
Motor power(kw)
Total weight(t)
Note
Diameter(m)
Length(m)
Obliquity(%)
Φ2.5×40
2.5
40
3.5
180
0.44-2.44
55
149.61
Kiln with shaft cyclone preheater
Φ2.5×50
2.5
50
3
200
0.62-1.86
55
187.37
----
Φ2.5×54
2.5
54
3.5
204
0.48-1.45
55
196.29
----
Φ2.7×42
2.7
42
3.5
320
0.10-1.52
55
198.5
----
Φ2.8×44
2.8
44
3.5
400
0.437-2.18
55
201.58
Outside disassemble kiln
Φ3.0×45
3
45
3.5
500
0.5-2.47
75
210.94
---- 
Φ3.0×48
3
48
3.5
700
0.6-3.48
100
237
Outside disassemble kiln
Φ3.0×60
3
60
3.5
300
0.3-2
100
310
Alumyte-alumina forge kiln
Φ3.2×50
3.2
50
4
1000
0.6-3
125
278
Outside disassemble kiln
Φ3.3×52
3.3
52
3.5
1300
0.266-2.66
125
283
Kiln with preheater precalcine
Φ3.5×54
3.5
54
3.5
1500
0.55-3.4
220
363
Kiln with preheater precalcine
Φ3.6×70
3.6
70
3.5
1800
0.25-1.25
125
419
Generating kiln for using ofterheat
Φ4.0×56
4
56
4
2300
0.41-4.07
315
456
Kiln with preheater precalcine
Φ4.0×60
4
60
3.5
2500
0.396-3.96
315
510
Kiln with preheater precalcine
Φ4.2×60
4.2
60
4
2750
0.4-3.98
375
633
Kiln with preheater precalcine
Φ4.3×60
4.3
60
3.5
3200
0.396-3.96
375
583
Kiln with preheater precalcine
Φ4.5×66
4.5
66
3.5
4000
0.41-4.1
560
710.4
Kiln with preheater precalcine
Φ4.7×74
4.7
74
4
4500
0.35-4
630
849
Kiln with preheater precalcine
Φ4.8×74
4.8
74
4
5000
0.396-3.96
630
899
Kiln with preheater precalcine
Φ5.0×74
5
74
4
6000
0.35-4
710
944
Kiln with preheater precalcine
Φ5.6×87
5.6
87
4
8000
Max4.23
800
1265
Kiln with preheater precalcine
Φ6.0×95
6
95
4
10000
Max5
950×2
1659
Kiln with preheater precalcine
Join Us On Whatsapp
Name: Mining-Mineral-Ore-Machine
For: share openings, doing business, make information transmission
Click it to Join in
Related Products