Introduction to Cement Grinder
The cement mill or cement grinder is the key equipment for further crushing after the materials are broken. The cement miller is widely used in cement, silicate products, new building materials, refractory materials, fertilizer, black and non-ferrous metal and glass ceramics. The cement mill is available in both wet process grinding and dry process grinding of all kinds of ores and other materials.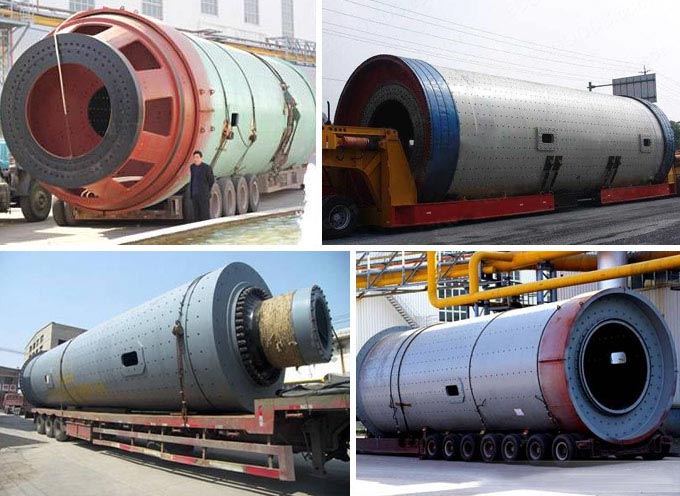 Features of the Cement Mill
The cement grinder features strong adaptability to the materials, high crushing ratio, reliable operation and easy adjustment of granularity. In addition, the grinding and the drying can be carried out simultaneously.
Working Principle of Cement Miller
The materials enter the first silo of the cement grinder, where there are ladder lining boards or corrugated lining boards installed with different sizes of steel balls, through the feeding device evenly and spirally.The centrifugal force produced by the rotating cylinder raises the steel balls to a certain height, which then fall down, resulting into a strong crushing and grinding to the materials. After being coarsely crushed in the first silo, the materials get into the second silo with plane lining boards embedded with steel sections through the single-wall partition for further crushing. The powder will be discharged by the discharge port. Thus, the grinding work is done.
Contact us if you want the detailed cement mill price: +86-371- 67833171.
The manufacturing address of the cement mill: No.8, Tanxiang Road, Zhengzhou, Henan, China
Technical data
Product specification
(m)
Milling form
Transmission form
Gear box
Motor power
(kw)
Production capacity
(t/h)
Total weight
(t)
Model
Speed reduction ratio
Φ1.83×7
Open flow
Brim
ZD60
4.5
245
6.5-8
43.8
Φ2.2×7.5
Open flow
Brim
ZD70
5
380
8-10
64.8
Φ2.2×11
Open flow
Brim
D110
35.5
630
12-13
104.6
Φ2.2×13
Open flow
Brim
D110
35.5
630
16-18
114
Φ2.4×13
Open flow
Brim
D110
35.5
800
20-23
130.6
Φ2.6×13
Open flow
Brim
MFY100
19.5
1000
28-32
158
Φ3×9
Circle flow
Brim
D125
41.2
1000
28-36.5
167
Φ3×11
Circle flow
Brim
D140
42.8
1250
36-47
180
Φ3.2×13
Open flow
Brim
D140
36.5
1600
45-50
225
Φ3.5×13
Circle flow
Brim
JDX1000
5.84
2000
60-65
275
Φ3.8×13
Open flow
Central shaft
MFY250
16.5
2500
60-62
320
Φ4.2×13
Open flow
Central shaft
JQS3550
15.6
3530
85-87
380
Φ4.6×14
Circle flow
Central shaft
JSI160-C
14.6
4200
120-135
485